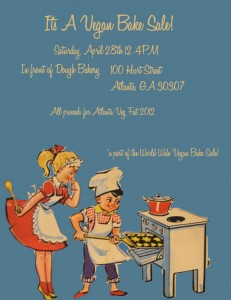 You guys know about the World Wide Vegan Bake Sale, right? Vegans everywhere, and I mean EVERYWHERE, hold vegan bake sales during a certain time period and raise money for excellent causes. Past Atlanta Vegan Bake Sales have raised money for Ahimsa House and Project Catsnip. This year we're raising money to get the first Atlanta Veg Fest off the ground!
Saturday, April 28th noon – 4pm the bake sale will be set up outside of Dough Bakery (that's us!) Yes, that's during the Inman Park Festival. So if you're going to the festival, just drop by for your baked goodies! We're right next to the Inman Park MARTA station so if you can't walk or bike we'd suggest public transportation. Trying to maneuver a car in and out of the area is about impossible during the festival.
This won't just be Dough baked goods. Lots of volunteer bakers offer up their kitchen skills to the cause. If you'd like to bake for the sale, just email leighsaluzzi(at)yahoo.com.
Hope to see you guys there!